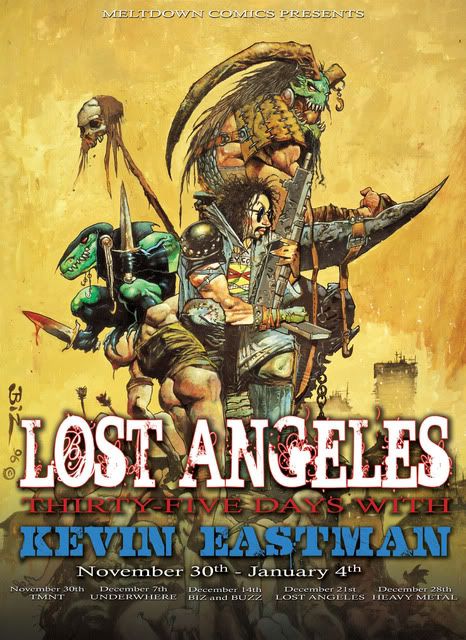 Meltdown Comics Gallery Presents!
LOST ANGELES Thirty Five
Days with Kevin Eastman
"A Pop
Culture Exhibition Fifty Years in the Making!"  
NOVERMBER 30TH , 2011 through JANUARY 4TH , 2012!
 
For Thirty Five Days KEVIN EASTMAN takes over MELTDOWN COMICS NEW GALLERY
exhibition space where he curates FIVE DIFFERENT SHOWS of some of his most exciting past, present, and future creations
and collaborations!
Located at 7522 West Sunset Boulevard in Los Angeles, the Meltdown Comics Gallery will be open daily
for all visitors, will feature special events at least twice weekly, including an
ALL NEW ART EXHIBIT  opening every NEW COMIC DAY WEDNESDAY from 6:00 TO 10:00!  
Over the five week celebration, fans NEW and OLD will get the chance to come hang out with Kevin, check
out the latest show, discuss projects, concepts, and future plans for everything he's working on from the new IDW Teenage Mutant Ninja Turtle comic series to the 2012 35th BIRTHDAY OF HEAVY METAL MAGAZINE!
NEW! OPENING PRESS EVENT! November 18th and 19th
Kevin Eastman and Mark Bode recreate the cover to TMNT Comic #1 in a huge mural
on the back of the Meltdown Comics store!
GALLERY EXHIBIT and SIGNING
SCHEDULES*
 *Please stay tuned to:
NOVEMBER 30th THE "TMNT" EXHIBIT
OPENS!
The event will feature all things Turtles including 90 pages of original Kevin Eastman TMNT
layout art for the entire new IDW series re-launch, the original artwork that
started ALL things TMNT, and special edition prints, books, posters, and other
rare TMNT treasures from his personal collection!
The signing will have on hand all IDW TMNT comics, the new Ultimate Collection Book One, as well
as many more original out of print publications.
The Gallery Night Event/Party/Signing is from 6
PM TO 10 PM!
DECEMBER 7th THE "UNDERWHERE"
EXHIBIT OPENS!
The event will feature at least 50 original paintings for Underwhere adventure by Mark
Martin and Kevin Eastman in the exhibit and available for purchase—alongside
tons of the original concept drawings from 1989.
An exclusive stickered 1500 copy edition of the Underwhere Graphic Novel will be sold at the show for
$5 each, with a dollar from each copy being donated to the Hero's Initiative
Organization.
For more information about the Hero Initiative, go to www.herointiative.org!
The Gallery Night Event/Party/Signing is from 6
PM TO 10 PM!
DECEMBER  14th THE "BIZ AND BUZZ" EXHIBIT
OPENS!  
The event will feature all 24 original black and white pages for complete issue #1! The art,
by Simon Bisley and Kevin Eastman, will be on exhibit and available for
purchase, as well as all of Kevin Eastman's original development artwork for a
future TV series.
Copies of the full color comic book and exclusive collectable toys will be for sale as well, including
a limited edition show print.  
The Gallery Night Event/Party/Signing is from 6
PM TO 10 PM!
DECEMBER  21st THE "LOST ANGELES" EXHIBIT
OPENS!
The event will feature original concept drawings and development paintings by Kevin
Eastman and Simon Bisley for an upcoming film option, as well as a series of
show exclusive prints created just for the exhibit, and all will be available
for purchase.
A special 100 page collector's edition book will make its premiere at the show.
The Gallery Night Event/Party/Signing is from 6
PM TO 10 PM!
DECEMBER 28TH THROUGH JANUARY 4TH
THE HEAVY METAL 35th ANNIVERSARY EXHIBIT
OPENS!  
As this is the event 35 years in the making, and the fact that it is growing larger and more insane
day to day, we will need to hold off on releasing the final details until mid
December—but can assure all Heavy Metal fans it will be worth the wait! 
**STAY TUNED TO WWW.HEAVY METAL.COM FOR ALL THE LATEST
DETAILS!
ADDITIONAL SHOW HIGHLIGHTS/EVENTS
RE-CREATING KEVIN EASTMAN'S STUDIO
AND SELLING IT!
Inside the Galley space is a 15 x 15 foot square room, with a wall sized glass window looking
into IT–where Kevin Eastman will move into and recreate his entire ART STUDIO
and SELL IT TO THE HIGHEST BIDDER! 
All items in the exhibit space will be taken directly from HIS Los Angeles based Art Studio—and
set up as a working exhibit! Everything including desk, chairs, tables,
original artwork, books, files, projects, comics, DVD's, CD's, things you (and
even he) can't even imaging. It will be a wall to wall, floor to ceiling once
in a lifetime event, that will have to be seen in person to be truly believed!
 (*Photo's of the old and the new studio space will be posted online shortly!)
SPECIAL HEAVY METAL COVER ARTIST
FEATURED EXHIBIT BY LORENZO SPERLONGA!
GUEST SPEAKERS!
ARTISTS SIGNINGS!
SPECIAL MOVIE
SCREENINGS!
DRINK AND DRAW
SESSIONS!
ART DEMONSTRATIONS!
AUCTIONS, AND MUCH,
MUCH, MORE!