☠ ☠
–>> Zippin' back from Tokka's injury earlier this month. Memorial Day weekend is a great time to kick off the GGM Summer Season and for Tokka to play catch-up to the GREEN TEAM TOY news and a special look at the TMNT inspired Disney Vinylmation Zooper Hero – ZIPPY the Rocket Turtle !!
☠ ☠
☠ ☠
☠ ☠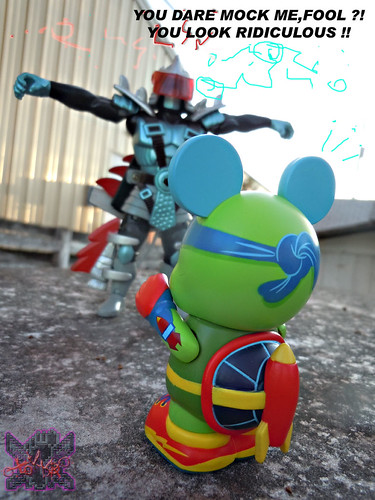 • •
Vinyl or PVC, TMNT in 2014 is the place to be – we gotta a toy news ROUND UP that's been piling up WAY HIGH since Tokka's accident so here's that's been brewin' the past few weeks. It's gonna make your pocket-book cry tears of joy and/or jeer  ::
Special thank yous n' props to the CROOKED NINJA TURTLE GANG ::
First full look of the movie figures complete with April, Shredder, the Turtles, Foot Soldier, and Splinter. Now you all can have a Megan Fox action figure!

Packard Movie toy info has been removed at request of site owner ; however..
THE "PACKAGED MOVIE PIX" IN NICE BIG, FAT FORMAT **
Getting back to vinyl toys – t his third quarter of the year and into the fall we're getting hit with more Vinyl TURTLE TOYS than you can shake a PVC pipe at !! Starting NOW with three major companies producing or continuing popular lines of brand NEW figs re-envisioning the classic Cartoon Teens and their friends/enemies from the Mirage books in highly stylized plastic forms !!  !!
And the MISC. ::
The new Bebop and Rocksteady designs as confirmed by a slip on the Playmates website (now taken down). Looking good! Thanks to Steve Minar for informing me.
..and the following courtesy of Jon J.  :: "Playmates Toys: Wave 10: Robotic Foot Soldier,Tiger Claw,Bebop, and Rocksteady…
Wave 12:Baxter Fly
Undetermined Releases: Karai, Mutant Wasp, Pizza Face, Chrome Dome"
~ t