☣ ☣
Welp, we're playing catch-up here due to the chaotic GGM downtime – – but there's reasons Tokka insists we're ONE OF THE HARDEST WORKING TMNT NEWS SITES OUT THERE!! Inspute the issues, we still try to work around the problems to deliver no matter what !!
So..let's have some fun. Tokka encourages GGM & his fans/friends to get creative with current and classic toy releases to see if you can put your own personal spin on your favourite Mutants, Monsters & Madmen !! !!
..check out Tokk's recent "RETRO STYLE" custom of the MEGA BLOKS Holographic Shredder Minifig. Recalling the classic and weird color scheme of that original 1988 Playmates Shredder figure !! !!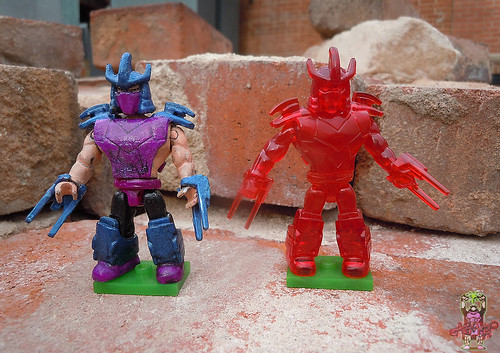 ☣ ☣
Instructions for all the Series 1 characters, except the "MYSTERY" chase character – The Foot Bot.
☣ ☣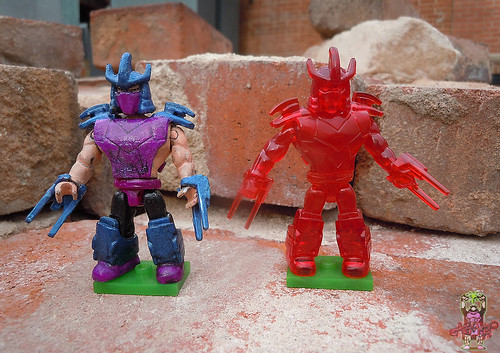 ..a regular, TMNT Classic Show Accurate Shredder from Mega Bloks is due later this year. I really wanted to focus on the classic colors of that original toy as he appeared on packaging and some related items of that era.
• •
It's TURTLE-PALOOZA in the NEWS AGGREGATE as we close out THIS MONTH !!
** We're running out of time to preorder the game !! GAMESTOP PRORDERS INCLUDE SOME COOL BONUS DLC & More !!
Pre-order Teenage Mutant Ninja Turtles: Mutants in Manhattan and receive the GameStop Exclusive Rock N Roll Pack!
"Those who pre-order Teenage Mutant Ninja Turtles: Mutants in Manhattan from GameStop will receive four unique Rock N Roll costumes for Leonardo, Raphael, Donatello and Michelangelo to wear in game.
"Get a FREE TMNT Poster with art by Mateus Santolouco with purchase of TMNT: Mutants in Manhattan*. Mateus Santolouco is a Brazilian comic artist and illustrator who is best known for his work with IDW comics on the TMNT series."
~ t